Memoria RAM de 8GB

OWC
8.0GB 1867MHz DDR3 SO-DIMM PC3-14900
Especificaciones del Producto:
-Tecnologia: DDR3 SO-DIMM
-Densidad: 8GB (8192MB)
-RoHS: Si
-Cantidad de Pins: 204-pin
-Op. Temp.: 0C to +85C
-Data Rate: DDR3L-1867
-Velocidad: PC3-14900
-CL: 11
-Cycle Time: 1.875ns
-Voltage: 1.35V
-ECC: Non ECC
-Module Ranks: Dual Rank
-Register: Non Parity
-Low Noise 8-Layer PCB
-Meets and/or Exceeds Apple/Intel Specifications
-Fully Compliant with JEDEC specifications
-Certificación RoHS
-Free Videps de Instalación & Manuales
-OWC Memory Lifetime Limited Warranty
-Por qué necesito mas RAM?
Por que necesito mas memoria RAM?
La mayoria de las computadoras vienen con el minimo de memoria RAM para que puedas procesar las tareas basicas como mail o ver videos online.
Tratar de hacer 2 o mas cosas al mismo tiempo o hasta correr una aplicacion tipica puede ponerse lento. Actualizando la memoria RAM puede acelerar:
-Multitarea
-Edición de fotos de alta resolución
-Maquinas virtuales
-Juegos
-Varias pestañas al mismo tiempo
-Abrir aplicaciones
-Arranque
-Impresión
En sintesis, mas memoria RAM es = a una Mac mas rapida!
Esta memoria RAM OWC es compatible con los siguientes modelos: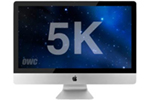 iMac w/Retina 5K display
(27-inch Late 2015)
(October 2015)
3.2GHz i5, 3.3GHz i5, 4.0GHz i7
Detailed specs coming soon
Esta memoria RAM OWC es compatible con los siguientes modelos: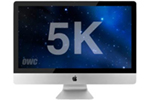 iMac w/Retina 5K display
(27-inch Late 2015)
(October 2015)
3.2GHz i5, 3.3GHz i5, 4.0GHz i7
Detailed specs coming soon